It was too late when a rescue team arrived at a house in Taman Puncak Tringkap, Cameron Highlands. The couple was found already dead on the floor of their bathroom on March 10, after what was believed to have been an incident of electrocution.
Soon after electricity had been cut off from the house, firefighters had been called to open the bathroom door as the couple was blocking the doorway. Investigators were able to check on their conditions, and the couple was confirmed dead upon their arrival.
As reported, the incident occurred when the husband, 46, was taking a shower using the water heater when he received an electric shock then fainted.
"Then the victim's wife heard a noise from the bathroom and went to check what happened before shouting and asking her 10-year-old daughter to bring a stick to try to save her husband," Pahang police chief Datuk Ramli Mohamed Yoosuf told the media.
"The wood was used as electrical insulation to disconnect the electric current from her husband. However, the woman also received an electric shock before losing consciousness, and their daughter then made an emergency call to report the incident," he said.
The woman, 35, had burn marks on her palm, as preliminary investigations discovered.
The couple is believed to have been electrocuted due to a faulty electric water heater wiring.
Further investigations reported that there were no criminal intentions in the incident. The bodies of the couple were taken to Sultanah Hajjah Kalsom Hospital in Tanah Rata, Pahang, for autopsy.
The couple are farmworkers who originated from Sarawak. They have 3 children, 2 boys aged 2 and 8, and their daughter, 10, who reported the incident.
"The 3 siblings have been sent to the Social Welfare Department (JKM)," Bernama reported.
The incident of the victims who died from a fatal electric shock via a water heater was not the first time the rescuers had received. Other occurrences in the area were reported before this.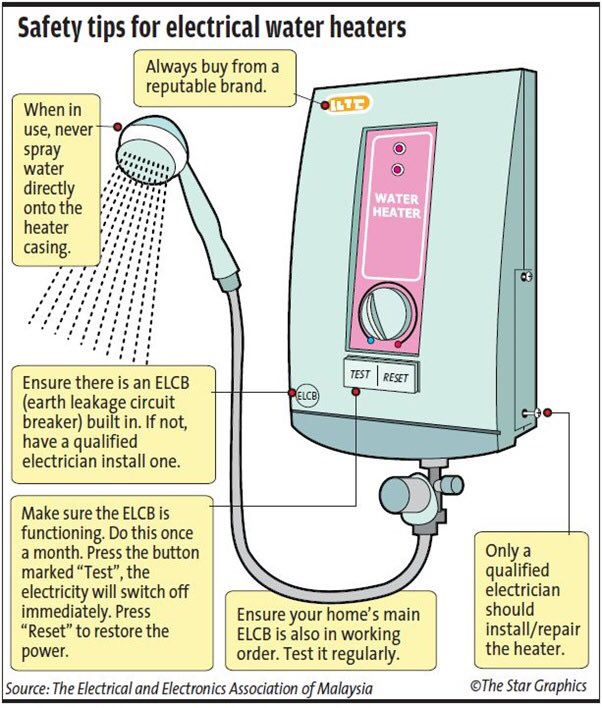 The general public is advised to take extra precautions when using a shower with a water heater attached.
Follow safety measures for the use of electric water heaters to avoid recurring tragedies:
"Safety first. The electrical codes in the United States and Canada — respectively, the National Electrical Code (NEC) and the Canadian Electrical Code (CEC) — require certification by a Nationally Recognized Testing Laboratory (NRTL) and or an accredited certification body (CB) for use and sale of certain kinds of electrical products." Source: https://www.nsf.org/knowledge-library
Always conduct a regular water heater check-up and maintenance to ensure your safety and your family's, at home. Call the service centers regularly.