If you've watched Aquaman, chances are you might already fall for the guy who united the above and below, Jason Momoa. Playing such powerful character in the film, Momoa's personality in real life just going to make you fall for him even more.
Standing at 193 cm tall, this 39-year-old actor grew up in Hawaii and loves ocean to bits. So much love that he even took up courses in Department of Marine Biology in college. Growing up in an amazing place like Hawaii, it is just natural that Momoa likes to swim and dive. It's like he was born to play Aquaman!
But first, bless this picture of young Momoa.
Who would've have thought that such a bulky intimidating-looking guy like that is such a sweetheart and a child at heart? With his charismatic facial expression and masculine frame, nobody would've guessed that Momoa has a funny and warm personality.
Momoa enjoys running around and hugging people around him.
One with the Aquaman's director, James Wan.
Not even Superman can escape his hug.
Just trying to bite his ear!
He has the sweetest smile.
I mean, what kind of picture you want more than this one? None.
He's so kind, he asked fans to go home when they're waiting for him in the cold.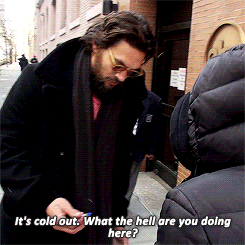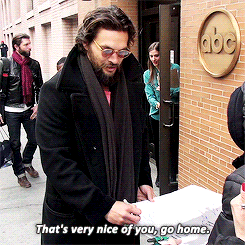 Most importantly, he loves dogs!
View this post on Instagram
According to his co-star in Aquaman, Amber Heard who played Mera, Momoa is allergic to being ignored. So he will always push, nudge, shove or do whatever to get your attention. He's just one positive, happy virus. Sounds like a perfect guy to hang out with!
Even his love story sounds like a dream. Momoa revealed that he saw his wife, actress Lisa Bonet who was 20-year-old back then when he was just only 8 on television and fell in love with her at first sight. It was believed that the couple was married in 2007 but did not legally marry each other until 2017.
Momoa and his wife.
View this post on Instagram
Can we have a hug too?