This adorable friendship between a young boy and a cute dolphin will melt your heart.
The young blonde boy visited a marine life park in Koktebel, south-eastern Crimea but he never thought that he would end up making a new friend—a dolphin!
A video of the excited boy playing catch with his new friend at the marine life park quickly took the internet by storm as many people found the scene utterly heart-warming
The dolphin casually swam up to the pool side with a bright pink ball and threw it at the boy
The little boy then happily caught the ball and flung it back to the dolphin
Even when the ball was flung into the pool, the dolphin dutifully swam back into the pool, caught the ball and continued the game of catch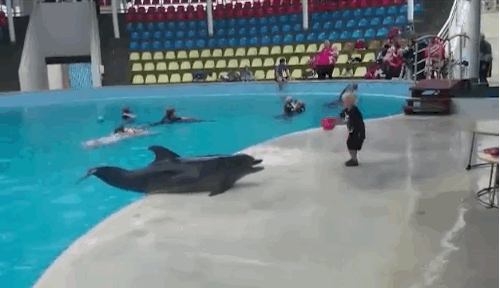 The two was seen having a blast playing the game and the dolphin absolutely loved the game that it squeaked to tell the boy to continue playing when the boy stopped throwing the ball.
Watch the heart-warming video of the little boy playing catch with the talented dolphin in this video here